For the average consumer, it feels as if the hemp industry exploded overnight. While the 2018 Farm bill legalized the regulated production of hemp (which includes CBD as one of its many compounds), small-but-mighty strides have been made by those in the know for much longer as they prepared for the nation to catch up with the beneficial properties of cannabinoids. Paul Talbot, owner of Infused, a CBD Marketplace, has a keen eye for reputable, transparently produced and beautifully designed CBD products that rise above in an increasingly crowded industry.
This is especially true for CBD skincare products — a market valued at in 2018 and projected to grow by nearly 33 percent through 2025. Creams, roll-ons, bath bombs, body butters and balms are all competing for virtual shelf space, but how does the consumer know where to begin? Talbot has some answers, starting with an underlying philosophy.
"I think when shopping for CBD skincare, it is very similar to shopping for regular skincare: you want the best ingredients, and stay away from harsh chemicals or products made with artificial fragrances. CBD skincare really does work and has made a huge difference personally for skin problems like eczema or dry skin in the colder months."

Talbot meticulously reviews and tests hundreds of products to curate what will eventually be on display at his Boulder, Colorado, and Simsbury, Connecticut, locations. Fortunately, the newly redesigned online shop provides easy access no matter where you live, with gorgeous photography and detailed product descriptions.
"Our criteria for selecting skin products is similar to how we select all the products in our store. We focus on aesthetics and brand image first, then we investigate ingredients and how the products smell, feel and work for us," says Talbot of his inventory. "Lastly, we want to know more about the company and what makes them unique or special. Most of the products we sell in our store are industry firsts or stand out among the more generic products."
READ: Infusing the CBD Industry with Style & Substance
Knowledge is power. Talbot and his team have an in-depth understanding and can guide customers toward products suited for their needs, particularly when package labeling may confuse first-time users. Potencies always appear on the label, but more milligrams of CBD isn't necessarily better, depending on its application. A face cream, for example, may have a lower CBD ratio for more sensitive areas. At the same time, a pain-relieving topical salve, with a higher concentration and added herbs or essential oils, can be more effective for skin conditions.
A new generation of innovators is developing and producing small-batch, traceable products that are legitimizing an industry that once felt like the Wild West of entrepreneurship. Talbot agrees with the trend reports and foresees a dynamic future ahead for this segment of the CBD marketplace.
"CBD skincare is such a great segment of CBD products, and the anti-inflammatory benefits of CBD, along with how it works with stopping negative cell growth, really can do some amazing things when used regularly on your face or other areas that are struggling with skin issues," says Talbot. "Some of the major benefits can include anti-aging, reduced inflammation and puffiness, and relief from skin conditions like eczema, dermatitis psoriasis and others."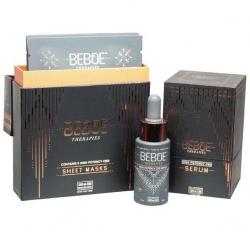 Beboe Therapies CBD Serum and Sheet Mask Set
FIVE TO TRY
Talbot curates five of his favorite CBD skincare products:

Beboe Therapies CBD Serum and Sheet Mask Set — Perfect for a gift or to treat yourself, this deluxe package includes five face masks custom-designed by Scott Campbell (50 mg CBD each), as well as a high-potency CBD serum. Viscous and honey-colored with an earthy scent from proprietary cannabis, the serum can be used both in the morning and at night. (1 oz/ 300 mg hemp-derived CBD)

Common Ground Bergamot Body Crème — This smooth, non-greasy lotion is designed to be used all over the body. Non-comedogenic and 100% natural using only plant-derived ingredients, with notes of bergamot, jasmine and cedarwood. (3 oz/500 mg CBD full-spectrum hemp extract)

Pachamama Icy Muscle CBD Gel — Perfect for athletes or those with chronic muscle aches, this integrative gel also includes a plethora of healing Chinese herbs. Backed by modern medicine, the therapeutic properties of peony root extract and licorice root extract work in synergy with menthol and camphor to fight inflammation. (2 oz/ 500 mg THC-free broad-spectrum CBD)

Haoma Soothing CBD Eye Cream — Combat sleepless nights with a rich, natural eye cream that promotes circulation and improves elasticity with the addition of yarrow, carrot seed and nettle— a perfect addition to your morning and evening skincare rituals. Plant-based, vegan-friendly and cruelty-free. (.4 oz/ 50 mg CBD)

Life Flower Massage Oil — Now, more than ever, couples are getting creative to keep intimacy alive and well. This rich blend of almond and coconut oil accentuates the senses with natural aphrodisiacs to soothe and seduce the body and mind. Jasmine, rose and chamomile buds, along with lavender sprigs combine to create complex olfactory notes. Can also be used as a body moisturizer — no partner required! (3.2 oz/500 mg pure hemp-derived CBD)




Disclosure: The statements made on this website have not been evaluated by the Food & Drug Administration. Products are not intended to diagnose, cure or prevent any disease. If a condition persists, please contact your physician or health care provider. The information provided by this website or this company is not a substitute for a face-to-face consultation with a health care provider. It should not be construed as individual medical advice.

Sponsored content.
Matthew Wexler is EDGE's National Senior Editor of Travel, Lifestyle, Health & Branded Content. More of his writing can be found at www.wexlerwrites.com. Follow him on Twitter and Instagram at @wexlerwrites.