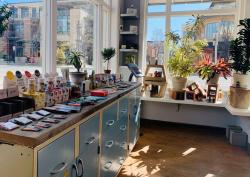 Infused's Boulder, Colorado retail location. (Source:Infused CBD Marketplace)
CBD products are appearing everywhere, from your local drugstore to ads in your social media feeds. The rapidly-growing industry is playing catch-up regarding transparency and quality, so unless you're a well-informed consumer, it's easy to fall prey to products that boast benefits without the data to back it up. Enter Infused, a CBD Marketplace, a family-owned business that's building relationships and trust with small-batch producers and clientele that appreciates its curated collection.

"First and foremost, it's our mission to provide a safe place, either in our stores or online, for people to shop CBD products," says owner Paul Talbot. "These are products that we personally use. We believe in them and stand behind what we sell."

In a recent phone interview with EDGE, Talbot's passion and commitment rang loud and clear. Infused launched online in February 2019, followed by the first retail location in Boulder, Colorado, in October 2020, and a second store in Simsbury, Connecticut. While operations at the retail locations were temporarily suspended due to COVID-19, it's been clear that now, more than ever, consumers need trusted products to address feelings of anxiety and promote better focus and sleep.

"I've been self-employed my whole life," says the 38-year-old serial entrepreneur. But it was a personal connection that prompted Talbot to consider pivoting his CBD interest from recreational to vocational. His mother, a retired nurse, has struggled with a herniated disc and neuropathy. "She was part of the reason I thought of getting into this business. I'd always used CBD for different things and it's a great alternative to psychoactive drugs."

Talbot says, over time, that his mother cut back prescription medications by 50 percent, avoiding the "downward spiral" of the opioid epidemic, which has effected many faced with chronic pain. Though not a cure-all, Talbot says CBD-derived products "have been around a long time and treated a lot of things." The first recorded use of CBD dates back to China's Emperor Sheng Neng, 2700 BC, though it wasn't until 1940 when researchers at the University of Illinois isolated CBD for the first time.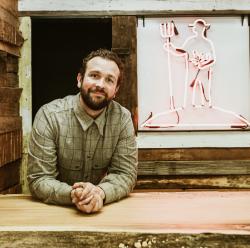 Owner Paul Talbot at Infused's Simsbury, CT, location. (Source:Infused CBD Marketplace)
A Cut Above
Infused is not a dispensary, head shop or pharmacy, but rather a sophisticated lifestyle store with a niche focus. Customers immediately feel at ease, entering the Boulder store, which is gorgeously outfitted with industrial-style shelving, vintage cabinetry, towering plants in the window and an eye-catching neon smiley face, which imbues a "don't worry, be happy" vibe. But what's on the shelves is the true star.

Talbot built Infused's business model from the ground up, with no outside capital or investors. His hands-on approach has enabled the company to stay true to its mission, focusing on companies with charitable partnerships, women-run brands, all-natural and vegan products and transparent sourcing. Infused carries upwards of 150 products from 35 different companies, each with a story to tell.

"For us, it's more of a passion product," says Talbot. "We want to help people. We want to sell people things that benefit their lives and make them feel better. It's important for us to be available and talk to people. I'm not selling magic, but having the correct information about CBD dosage, what you can use and what you can expect is essential."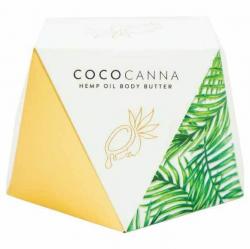 Insider Recommendations
EDGE asked Talbot for a few product recommendations from Infused's collection. Here's a sneak peek of what you can discover from Infused's direct CBD online products.

CocoCanna — This dual-duty product helps with both hydration and inflammation thanks to organic virgin coconut oil whipped with 400 mg of broad-spectrum CBD. What makes it work? The coconut oil's fatty acids facilitate a strong binding agent for cannabinoids, enabling your skin to regulate oil secretion better and decrease signs of aging. The multi-use product is terrific for cuticles, dry heels from a summer's worth of flip-flops, bug bites, sunburn relief and more. You can even use it as a restorative hair mask for dry and sun-damaged hair.

A Boring Life — Business and life partners Jen Johnson and Serafina Palandech launched A Boring Life in August 2018, and it's been anything but boring ever since. Johnson, a classically trained chef, began experimenting with hemp extract after discovering its benefits for pain relief and focus. The result is a collection of snackable nuts with 25 mg of organic, non-psychoactive hemp extract per serving, known for alleviating stress and anxiety, as well as acting as an anti-inflammatory.

Grön — The Swedish name translates to "green" and celebrates the "simple, beautiful rewards of living green." Founder Christine Smith merged her love for Scandinavia and chocolate-making, becoming Oregon's first fully compliant edible processor. Standouts include the Texas praline dark and milk chocolate, and the ruby raspberry, each containing 50 mg of organic hemp extract.

For more product ideas, visit infusedcbdmarketplace.com



Disclosure: The statements made on this website have not been evaluated by the Food & Drug Administration. Products are not intended to diagnose, cure or prevent any disease. If a condition persists, please contact your physician or health care provider. The information provided by this website or this company is not a substitute for a face-to-face consultation with a health care provider, and should not be construed as individual medical advice.
Original Post – EdgeMediaMatthew Wexler is EDGE's National Senior Editor of Travel, Lifestyle, Health & Branded Content. More of his writing can be found at www.wexlerwrites.com. Follow him on Twitter and Instagram at @wexlerwrites.